http://www.linowski.ca/sketching
Excerpt:
Interactive Sketching Notation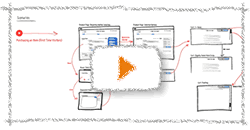 The interactive sketching notation is an emerging visual language which affords the representation of interface states and event-based user actions. Through a few simple and standardized rules, what the user sees (drawn in greys and blacks) and does (drawn in red) are unified into a coherent sketching system. This unification of both interface and use, intends to enable designers to tell more powerful stories of interaction.

Download the latest v1.0 

Version: 1.0 - January 2011
Interactive Sketching Notation
by
Jakub Linowski
is licensed under a
Creative Commons Attribution-Share Alike 2.5 Canada License
.